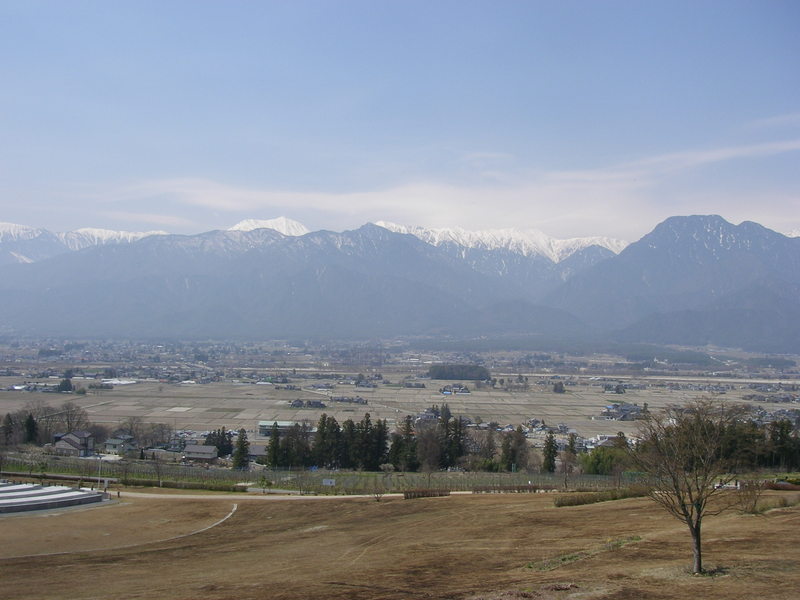 Where is Azumino?
A part of Nagano Pref. in Japan is called "Azumino". Nagano is a mountainous country which is located in the central region of Japan. Beyond the north of Matsumoto City and at the eastern foot of the Japan Alps, there is an extension of the most lush and fertile rice fields in Japan. This area is the site of Azumino.
Nagano is also called as "Shinshu". I was born in the Shinshu-Azumino . I'm very proud of my birthplace. Then, I would like to introduce you to this splendid area of Azumino.
In spring, green rice paddy fields are beautifully contrasted with the remaining snow of high mountains. Oh! it's just like a lovely wide picturesque landscape on a grand scale. In summer, many climbers ascend the mountains to take in beautiful views and enjoy dynamic and thrilling moutainous treks. In Autumn, people who visit here enjoy fine sceneries of mountains with leaves that have beautifully been transformed into an array of tints of yellow, red, or orange and auburn. In winter, northern Azumino turns to a ski paradise. Skiers and snowboarders enjoy the fine texture of the abundant snow and the extended range of numerous ski slopes of excellent quality.
Every year and every season, many tourists visit here in Azumino for its comfortable environment and good hospitality.