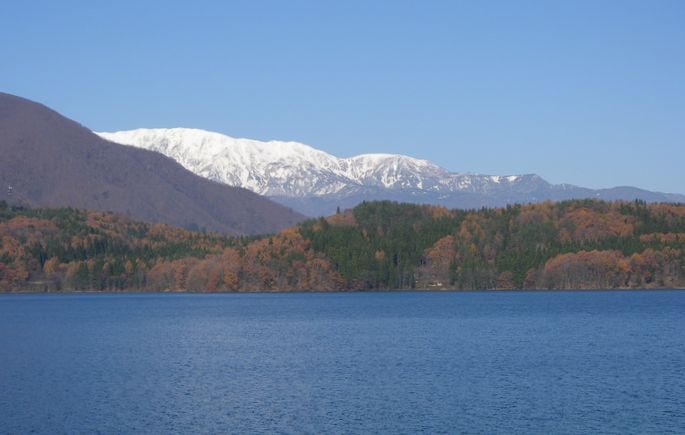 There are three lakes, the so called "Nishina San-ko", at the northen end of Azumino. From south to north, they are Lake Kizaki, Lake Nakatsuna, and Lake Aoki. The rural scenery of Azumino as an extension of the most lush and fertile rice fields ends at the north of Omachi City which neighbors the lakes. And the narrow mountainous path continues to the Sea of Japan from here.
The three lakes were formed on the Fossa Magna ( a masked border region separating southwest and northeast Japan ) which hints at the mystery of the formation process of the Japanese Islands. In the case of Lake Aoki, the deepest part of the lake measures 58m.
The reason why Lake Aoki continues to maintain a rich quantity of water, in spite of having no inflow river, is that it probably has a large quantity of springs at the bottom of the lake. The Nougu River flowing out of Lake Aoki leads south Lake Nakatsuna and Lake Kizaki. 
The sightseeing association of Omachi City describes the Nishina three lakes in a very poetic way. First, Lake Kizaki, having prosperious leisure sites, is "Lake Kizaki of the play"; Lake Nakatsuna, evincing snug atmosphere, is "Lake Nakatsuna of the relaxed pose"; and Lake Aoki, evincing mysterious atmosphere, is "Lake Aoki of the comtemplative pose". I believe these are very appropriate expressions.
I visited Lake Aoki for the first time in almost thirty years. The water springing out of the deep bottom of the lake changes the color of the Lake Aoki's center into fresh water blue or bright light blue. I was moved by the scenery of Hakuba Sanzan with snow on its top and mountains with leaves that have beautifully been transformed into an array of tints of yellow, red, or orange and auburn. Backed by these exquisite natural scenaries, a shopkeeper pretended to be a philosopher for a few brief moment.