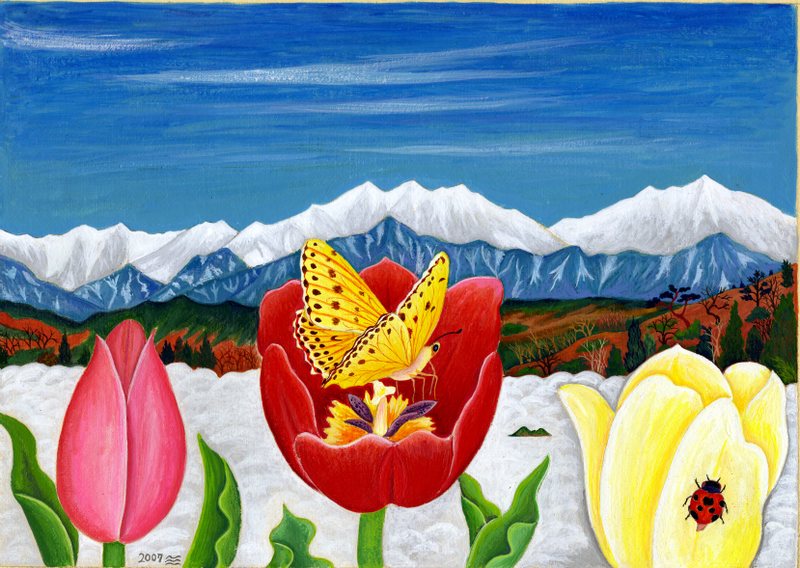 In February, it was abnormally warm in Azumino. In March and April, however, we were surprised by a very unseasonal cold spell in early spring. Then, all of a sudden the cherry blossoms at ground level bloomed and real spring arrived.
I want to introduce you to a splendid picture which so vividly depicts the spring in Azumino. It is "the Alps and the tulip" which was drawn by Mr. Mitsutaka Kawasaki, a painter who is resident here in Ikeda Machi.
Mr.Kawasaki is from Saitama Pref. He continued to draw pictures while he traveled around many places in Japan,.And he further improved his original style of painting by his experiences in Europe and India. We are irresistibly attracted by the delicate colors and unique composition of his paintings. He currently resides in Hirotsu Ikeda Machi Kitazumi-gun, Nagano Pref.
(At Shinya Shoten shop(http://www.shinya.biz), we made a card of this "Alps and tulip" with Mr. Kawasaki's consent. And we arranged it such that there was an attached message which was served as a "Mother's Day" card. We are waiting for your order of the Japanese Sake which will include a free complementary "Mother's Day" card. )
Daiseikai Ginjo/Fumoto (Japanese Sake)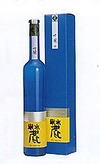 Less alcohol than others. So this may be good for women.
Cute bottle is suitable for a gift. fresh flavor fruity taste!!
Slightly dry. (500ml)
¥1800+postage (limited to sale in Japan)
Please contact us; [email protected]