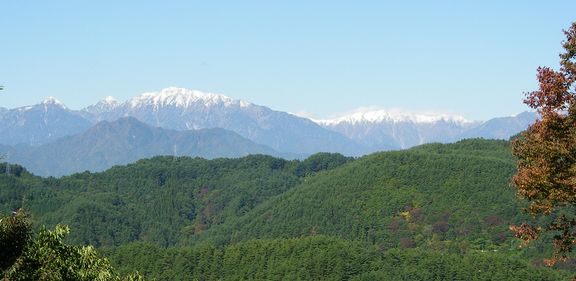 In these days, we are really felling the cold. In the early morning of last Saturday, I discovered as if by chance, the top of western mountains had turned white. Oh! It was the first snowfall in the mountains in this season. In this summer, we had suffered from extreme hot weather. And yet even until the end of September, we had experienced the severe heat of late summer.
Actually, I felt little bit relieved since the snow had fallen about same time as the average year. The recent controversy over global warming and climate change is so serious that we had become a little restless. Recent news that the climate change campaigner Al Gore and the UN's Intergovernmental Panel on Climate Change had been awarded the Nobel Peace Prize makes us stand up and notice the severity of this issue. The Norwegian Nobel Committee pointed out it wanted to bring into sharper focus the increased danger of violent conflicts and wars over water or food, within and between states affected by climate change.
During my delivery stops, I dropped in at Tohari-bashi(登波離橋), a place of scenic beauty here in Ikeda Machi. Although it was little bit early for the autumn color of leaves to appeare, I enjoyed the beautiful scenery of Japan Alps mountains covered with snow on top from a distance. They were called Hida(飛騨)mountains before, and from old days the people of Azumino have been living at the foot of these mountains. I doubt whether the climate change will also inflict some damage on the nature of Azumino. Anyway, I hope our descendants will also enjoy the beautiful scenery of mountains covered with snow on top.