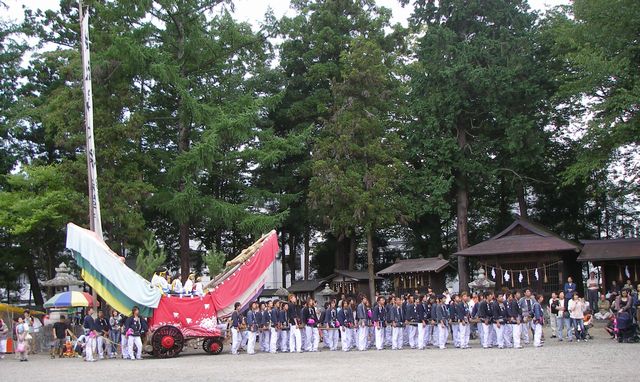 September is the season of autumn festivals in thanksgiving for the harvest. In Azumino, there some shrine festivals called "Ofunematuri" in which people parade with a float shaped boat. The most famous "Ofunematsuri" is held at the Hotaka shrine in Azumino city on September 26-27. Why the festivals of boats in a mountanious country like Shinshu ( Nagano ) ? People might question this phenomenon.
    According to a legend, the Hotaka shrine was founded by the Azumi-tribe. The Azumi-tribe, as I mentioned before, originally lived in the vicinity of Shikanoshima Island of Northern Kyushu. They were seafaring people who fished for a living. They had a highly developed system for voyaging out in the waters and fishing.
    It is natural that the shrine which enshrined the Azumi-tribe's god preserved the festival of boats. There are some festivals in which people parade with Floats shaped like a boat in the Azumino area.
    According to the Japanese old book titled "Engishiki ( 延喜式・AD967 ), there were two shrines in Shinano-no-kuni ( the old name of Nagano ), Azumi-gun. Both of them were the Hotaka shrine and the Kawai shrine.
    The Kawai shrine has been located in Aisome district which is a part of Ikeda Machi, Kita-Azumi-gun, Nagano Prefecture now.  The Kawai shrine enshrined a god named "Sokozuwatatsumi-no-kami" as well as the Shikanoshima shrine in Northern Kyushu. Therefore, the Kawai shrine also has a big possibility of being connected with the Azumi-tribe.
    Unfortunately, the Kawai shrine has not been preserved "Ofunematsuri ( a festival of the boat )", but the festival has been continued at another shrine in Ikeda Machi. The festival of Hachiman shrine is held on September 23-24 every year.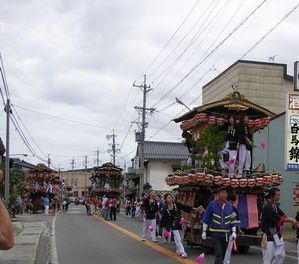 On the first day, people parade with ordinary traditonal floats on which children playing "ohayashi ( the traditonal festival music )" ride on the street, and gather in the precincts of Hachiman shrine for paying respect at the shrine.
    On the second day, the gruop of young men called "wakai-shu" pull boat shaped floats called "fune" around the street. On these floats children sit astride and play "ohayashi" too.
    It is a nice contrast between the grave and quiet parade on the first day and the brave and speedy pulling around on the second day.